Scoreven's 100-page-
Wit-ful
E-books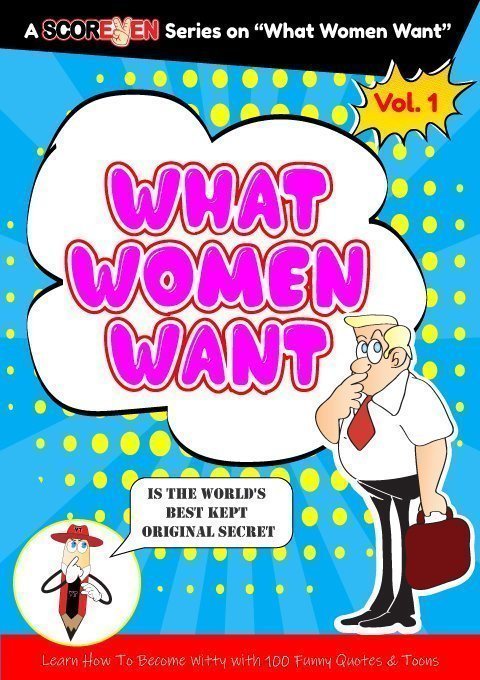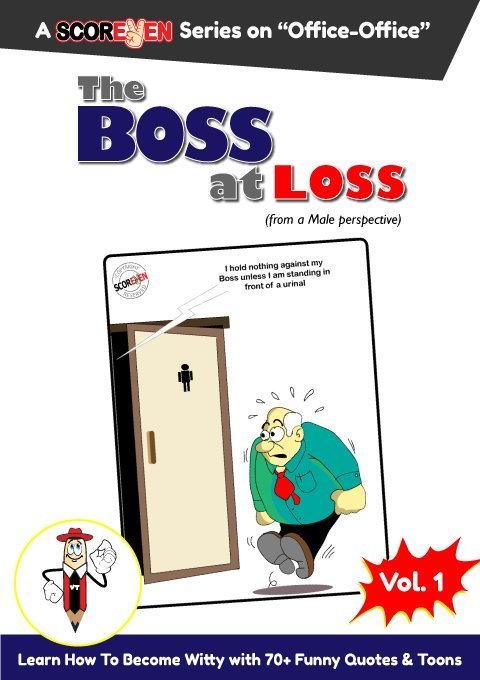 Our creatives are categorized under every emotion that a human often has and tries to find a way to get even with those who provoked that emotion. In other words, let them feel how you felt when they made you feel with their acts.  Browse through these witty ammunition arranged in "pack of 100 quotes & toons" in .pdf format. Pick the ones you would like to keep in your bookshelf or, send some or all of them as E-cards or P-Cards (P for paper!).
Top Rated Ebook:
"Office-Office"
Funny things keep happening in office surroundings.  All the time, somebody is making fun of somebody, be it your peer, senior or, junior.  No one can escape the wrath of sarcasm.  Bitching about Boss or Colleague is a literal birthright for all employees.  Some are brave enough to say the curse words on face.  But for those who are gentle (read, not so brave!) but always wish that if they could speak up their mind, then here is the ammunition of quotes and jokes for them.  Pick one and, shoot!
The Popular Ebook:
"Your Place Or, Mine?"
This category of Scoreven humor contains illustrations based on situations where people try to play smart with their pick up lines, and win or lose in the process.  Browse through the cartoons and select the one that you wish to send to someone!
The Scoreven
Categories & Keywords
You name it, we have it.  Well, Almost.  We have our creatives – cartoons and lines – arranged under following categories. Some categories are populated and some will be populated soon.  Go ahead, have a look at these and have fun!
Behavior
Emotions
Actions
Set-up
Situations
Professions
Relationships
Being
Behavior
absenteeism | arrogance/smugness | careless | cheating/revenge | childish | drunk | dull | dumb | fake personality | garrulous/talkative | grumpiness | haughtiness | impatience | impulsiveness | incompetent | indiscipline | ingratitude | irresponsible | laziness | loose tongue | liar | negative | nepotism/bias | obstinacy/stubborn | opinionated | pedantic/fussy | picikiness | stereotype | superiority | complex | unorganised | unpunctual | whinning | narcisstic | discrimination | faulty | work ethics | favouritism | materialism | racism | secrecy | unfair | unjust | unpredictability
Emotions
Actions
Set-up
Situations
Professions
Relationships
Being
Do you think we have missed out on an important category? Please let us know:
Must Read: "ScorEven
Blog"
Our Blog section is full of wit and wisdom! We give a whole new perspective to being creative while conveying your good-bad-ugly messages across. Read on and imbibe the art of articulation to score one up every time.
Meeting Rules by Boss My boss puts it very aptly at the start of each meeting, 'If you have nothing
Read More »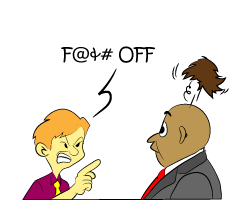 Words speak louder than actions. If actions speak louder than words, there wouldn't be one politician in the world that
Read More »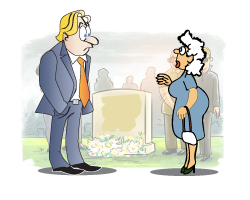 Keep losing calories, either against a wall or against someone I had to go to a funeral some time last
Read More »
Disclaimer
The material contained in this website is for general use only.
We make no representations or warranties of any kind, express or implied, about the completeness, accuracy, reliability, suitability or appropriateness with respect to the information, products, services, or related graphics contained in the materials for any purpose.
We assume no liability for any materials you or the intended recipient may find "offensive" in nature, as the materials represent the views of the sender/user of this website only.
In no event will we be liable for any loss or damage including without limitation, indirect or consequential loss or damage, or any loss or damage whatsoever arising from the sender's/user's use of the materials.
To add a line or the use of these one-liners is disallowed for being reproduced in any other form.